In sunny San Diego County, a beacon of support and Empowerment shines brightly for both military veterans and aspiring fighters. Gamebred Training Center, a local Mixed Martial Arts (MMA) gym, is not only dedicated to honing combat skills but also providing a space for veterans to heal, thrive, and reintegrate into civilian life. This unique gym has partnered with Patriot Empowerment Institute, a veteran nonprofit organization, to create a synergy of support that goes beyond the ring. Located in Chula Vista California, Gamebred Training Center is a 9,800 Sqft Facility packed full of top of the line equipment for Mixed Martial Arts training and Strenght Training.
Gamebred Training Center is not just another MMA gym. Founded by a team of seasoned fighters and fitness enthusiasts, the center prides itself on being a sanctuary for those seeking physical, mental, and emotional growth. The gym is named after the term "Gamebred," which signifies the resilience, determination, and toughness that fighters possess. This mindset resonates deeply with military veterans who bring their own sense of grit and discipline to the table.
Gamebred Training Center offers a variety of training programs, from Brazilian Jiu-Jitsu and Muay Thai to wrestling and fitness classes. More importantly, it offers a supportive community where veterans can find camaraderie, a sense of purpose, and a structured routine—a vital aspect of post-service life. The trainers at Gamebred are not only skilled in their craft but are also empathetic to the unique challenges veterans might face. This combination of expert coaching and understanding has turned Gamebred into a go-to place for veterans seeking empowerment.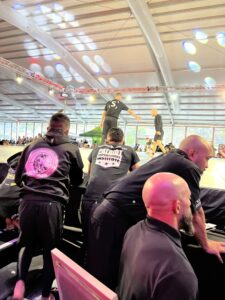 Patriot Empowerment Institute
Enter Patriot Empowerment Institute (PEI), a nonprofit organization committed too assisting veterans in overcoming the struggles associated with transitioning to civilian life. PEI's programs focus on providing veterans with the tools they need to find meaningful careers, heal from trauma, and reintegrate into society seamlessly.
The partnership between Gamebred Training Center and PEI was born out of a shared dedication to empowering veterans. Recognizing the physical and mental benefits that martial arts and physical fitness can offer, Gamebred has chosen to donate gym memberships to fundraise for veterans associated with PEI as well as donating memberships to select veterans. This gesture not only supports veterans in maintaining a healthy lifestyle but also provides them with a supportive environment to connect with others who have shared experiences.
"Gamebred Training Center has been a great partner to Patriot empowerment Institute. They have donated memberships as well as a portion of sales from their clothing to directly support veterans."– Steve Garcia
In a city known for its sunny beaches and vibrant culture, Gamebred Training Center and Patriot Empowerment Institute have combined forces to create a powerful source of support for veterans seeking empowerment and purpose. Through the generosity of Gamebred, veterans associated with PEI have found a place where they can rebuild their physical strength, heal emotional wounds, and connect with like-minded individuals.
What makes the collaboration between Gamebred Training Center and Patriot Empowerment Institute truly remarkable is the mutual support they offer one another.
Gamebred's commitment to donate gym memberships and support PEI's fundraising efforts demonstrates the gym's dedication to giving back to the community that has served and sacrificed for the nation.
By offering veterans the chance to be part of a community that understands their journey, Gamebred helps create a holistic support system that extends far beyond the gym's walls.
This partnership serves as a shining example of how local businesses can play a significant role in supporting veterans' organizations. As Gamebred Training Center and Patriot Empowerment Institute continue their journey side by side, the impact they make on the lives of veterans will undoubtedly extend far beyond the confines of their respective organizations, creating a ripple effect of positivity and empowerment throughout the entire San Diego community.